Thai Title:
Rak haeng Siam
Written and Directed by
Chukiat Sakveerakul
Starring
Laila Boonyasak, Mario Maurer and Witwisit Hiranyawongkul
The Love of Siam
To label The Love of Siam as just a homosexual teen romance flick is to misconstrue its intention and power to the viewers. Director Sakveerakul wants to show something deeper in one of his most successful movies. Aside from the strong attraction between the two young lead stars, the road towards to accepting a long-delayed reality was truly slow, painful and hard. The Love of Siam likewise makes us realize that to love and being loved by someone required sacrifice, which would lead to pain and a flow of emotions.
The movie starts with young Tong (Jirayu La-ongmanee) and Mew (Arthit Niyomkul), who are both schoolmates and neighbors. The two of them instantly bonded and formed a very close friendship. It quickly ended after Tong's family had to move out of the neighborhood. Tong's older sister, Tang (Laila Boonyasuk) went missing on her trip to Chiang Mai and this had caused Tong's family to become unstable. Tong's father (Songsit Rungnopakunsri) became an alcoholic while her mother (Sinjai Plengpanich) became more authoritarian than ever. Years later, Mew (Witwisit Hirunwongkul) who is now a composer and a lead singer of an upcoming boy bad in Bangkok crosses path with his long lost friend, Tong (Mario Maurer) at Siam Square. Eventually, the two of them reunited, rebuilt their friendship and even brought it to the next level.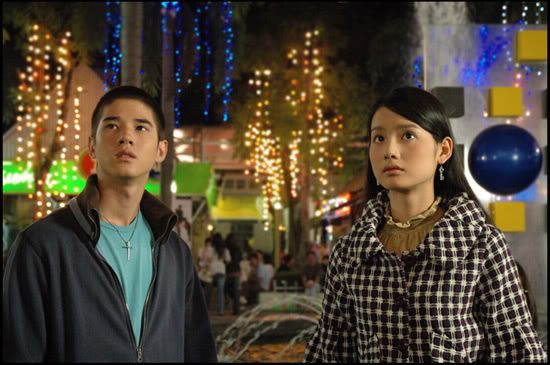 To make things more interesting and complicated, Mew's cute Chinese neighbor Ying (Kanya Rattanapetch) is secretly in love with him. Apparently she didn't know about Mew's homosexual tendencies. She would do all the things in the world just to grab Mew's attention. On the other hand, Tong is currently dating Donut (Aticha Pongsilpipat) and like Ying, she also has no idea about Tong's homosexual tendencies. Meanwhile, to appease Tong's dad who became a drunkard due to the sudden loss of his daughter, June (also played by Boonyasuk), Mew's band manager who really looks like his sister posed as their long lost daughter.
Siam Square plays a critical role on this Asian flick. Aside from referring to the movie's title, it is a place in Bangkok where most teens dine, shop, date and bond with their friends. In the eyes of Bangkok teens, Siam Square has been a place for hellos and goodbyes. This is the place where they profess their love, break-up their relationship and meet with their friends. In the movie, this is the place where Tong and Mew met after a few years of not seeing each other. Siam Square has become a network of different relationships, as portrayed in the movie. Nevertheless, The Love of Siam shows that love isn't a straight path that leads to a blissful ending. It's a star-like network which promises hope if one can take a correct move.
Unlike any traditional love stories, The Love of Siam did not conclude in a happy way. It ended with a mere spark of hope. There is indeed hope for everyone. That hope opens billions of possibilities for its characters, as numerous as the innumerable accidental encounters or meet-ups in Siam Square. Director Sakveerakul indeed made a bittersweet ode about the complexities of loving, in which the other mainstream cinema failed to accomplish such. What he calls in The Love of Siam is that audaciously crossing outside the common simplicities of love is far more rewarding than safely assuming the basic formula of it.
Tong and Mew's relationship is a perfect example of the struggles of loving a person in the middle of socio-political crises. Love survives notwithstanding the dilemmas that pervade the world. As Ying translates from a Chinese song, "as long as there is love, there is love".
There is indeed hope in this seemingly hopeless place.



RATING: 8.0 / 10