Original Title:
Nae yeojachingureul sogae habnida
Directed and Written by
Jae-young Kwak
Starring
Gianna Jun, Hyuk Jang and Su-ro Kim
Whether you like it or not, one of the most highly revered South Korean movie was 2001's My Sassy Girl (Yeopgijeogin). The movie's director Jae-young Kwak, as well as actor Tae-hyeon Cha and South Korea's 'It Girl' Ji-hyun Jeon's fame skyrocketed. Before 2001, romcom (romantic comedy) movies were nowhere to be found in the South Korean film industry. Through My Sassy Girl's success, South Koreans started to appreciated this kind of genre.
Thus it was not surprising that people expected a LOT from Windstruck (Nae yeojachingureul sogae habnida), after learning that it was the reunion of My Sassy Girl's director and lead actress. Surprisingly, despite being one of South Korea's highly successful movies, it hardly became a runaway success that its backers had been expecting.
Windstruck starts with Gyeong-jin (Ji-hyun Jeon), a hardworking and tough police officer who takes no mercy to criminals. One day as she was chasing a purse snatcher, he ended up with a wrong man, a highly revered high school Physics teacher named Myung-woo (Hyuk Jang). Everything cleared up but because of Myung-woo's chagrin, he decided to take part of Gyeong-jin's patrol program. After being handcuffed to Gyeong-jin, he found himself helplessly smitten by the young and beautiful police officer.
The following events happened so fast. The next thing you know, they were doing those cutie-patootie stuff, like what ordinary couples do. Video stills of the rural Korean landscapes were featured, partnered with old Motown songs. They even engaged in some 'exclusive-for-couples' activities such as decorating their homes, dancing in the rain and cooking dinner. Like any other Korean romantic melodrama, those happy scenes were suddenly drenched with sadness as Gyeong-jin's police work collides with Myung-woo's penchant for chivalry. Oh-so cliche.
The first half of Windstruck was good. The second half was the otherwise. It was clearly evident that Director Kwak's running out of ideas. Mood swings have been prevalent in the movie (no, I am not referring to the characters). The film starts off with a bubbly and light mood as the boy meets the girl, complete with all those slapping and sweet moments. Then all of the sudden, the mood transformed into a weepy melodrama.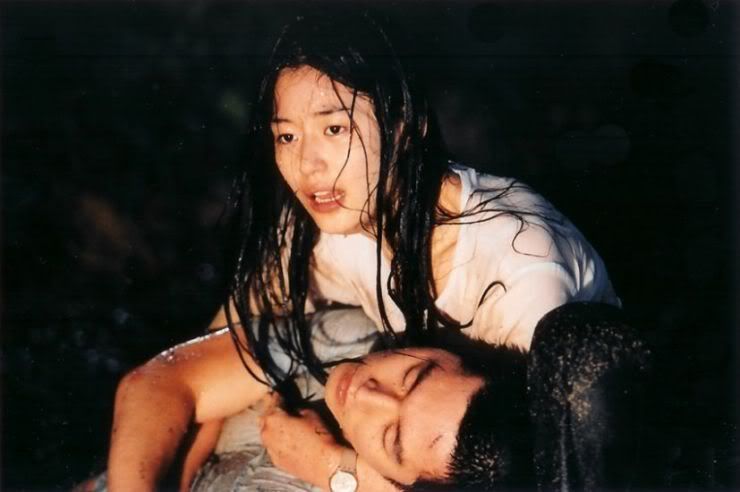 It was truly disappointing to some movie junkies, including me. The story line somehow failed to catch the attention because it was mixed with every possible genres - comedy, melodrama, action and even the inclusion of supernatural elements. It was not surprising how the moviegoers would react to this flick.
But I would like to commend Jeon's acting prowess. She had the capabilities of reducing grown men to cry babies in My Sassy Girl. But one thing's for sure: too much of something is not a good thing. Windstruck had stretched its actors too much. Jeon's weeping skills went overkill as her character breaks out in tears almost every minute or two. Eventually it became meaningless (and useless).
I may have cried buckets, especially the last part of the movie but this Korean movie didn't impress me at all. Windstruck has a promising plot, but with a scatterbrained script and other inconsistencies, it failed in numerous ways. But who cares? This movie wasn't really a flop, monetarily speaking.
I'd like to commend the movie's soundtrack though. At least it didn't suck.
RATING: 6.4 / 10